power and control.
Get both with an Oklahoma Fidelity Bank Mastercard®
No matter the size of your business, you can gain the purchasing power you need to grow and improve cash flow with a Mastercard® from Oklahoma Fidelity Bank. Whether one card or multiple employee cards with individual credit limits, you'll enjoy easy expense tracking and time-saving billing options. With advanced card management and expense reporting tools, you'll be in control of your business spending. All of this comes with the worldwide acceptance and benefits of Mastercard.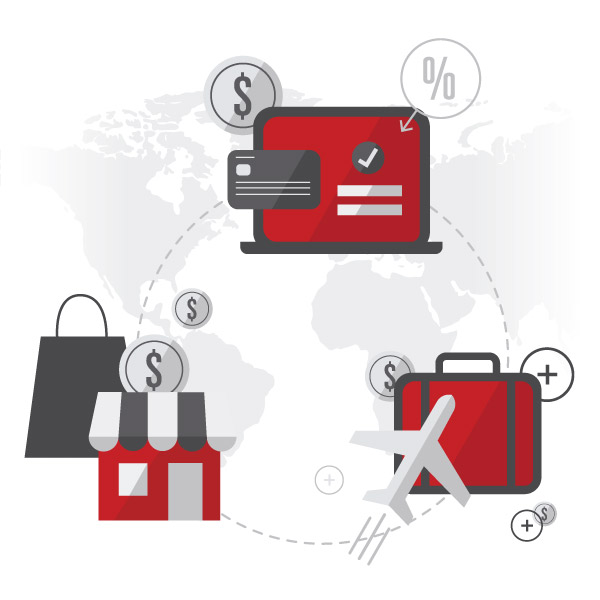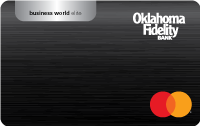 Mastercard World Elite
Manage your cash flow with higher spending limits and simplified reporting while earning cash back with a Mastercard World Elite card. You will earn 1% cash back on all purchases, 2% for gasoline purchases and 3% for dining and travel purchases like airfare, hotel and car rental.**

Apply now and earn an additional $500 cash back when you spend $5,000 within the first three months after account opening.*
commercial credit cards
Our suite of commercial Mastercards are perfect for companies in need of larger credit lines and a greater number of employee cards with individual limits.
To learn more about these options and obtain the right mix of cards for your organization, please contact a member of our Treasury team.
Please see the benefits guide for additional services, including those exclusive for World Elite cardholders.
All credit cards are subject to credit approval. Ask for details. "Mastercard" and the Mastercard Brand Mark are registered trademarks of Mastercard International Incorporated. Certain restrictions, limitations and exclusions apply.
*Upon approval, a letter will be mailed acknowledging your new account. The rewards bonus period begins on the date of the new account letter and ends 90 days later. For details on the rewards program, please visit fidelitybank.myapexcard.com/apply and select Rewards Terms and Conditions. Rewards options are subject to change without notice.
**We group similar merchant category codes into purchase categories that are used to calculate the stated cash back rewards. We make every effort to include all relevant merchant category codes in the listed purchase categories. However, even though a merchant or the items that it sells may appear to fit within a purchase category, the merchant may not provide us with the merchant code that will fall within that purchase category. Because of this, we cannot guarantee that a purchase will qualify for more than the standard 1% cash back as any purchase where a merchant uses a category code outside of the eligible purchase category does not qualify for additional rewards points.
***Certain terms, conditions, and exclusions apply. Please consult your Guide to benefits for specific benefit configuration.