Stay up to date on your finances with eAlerts
Stay up to date on your finances with eAlerts
7/31/2019
Whether you prefer to bank online or in person, it's important to stay updated on your financial activity. Monitoring your balance, avoiding overdrafts and detecting fraud go a long way towards maintaining good financial health. Oklahoma Fidelity Bank's eAlerts can help you keep track of all of these and more.
eAlerts are completely customizable to your banking needs
Below is a comprehensive list of all eAlert options.
Activity and balance alerts
ACH electronic deposit is above $ ____
ACH electronic withdrawal is above $_____
ATM withdrawal is above $____
Balance is above $_____
Balance is below $_____
Check or miscellaneous withdrawal is above $_____
Daily balance
Debit card charge is above $____
Deposit (excluding ACH electronic deposits) is above $____
Direct charge is above $____
Insufficient funds (NSF) today
Overdrawn account
Returned deposit today

Stop pay results
Transfer alerts
Daily or weekly transfer summary
Recurring or scheduled transfer ____ days in advance
Transfer changed
Transfer complete
Transfer failed
Transfer template changed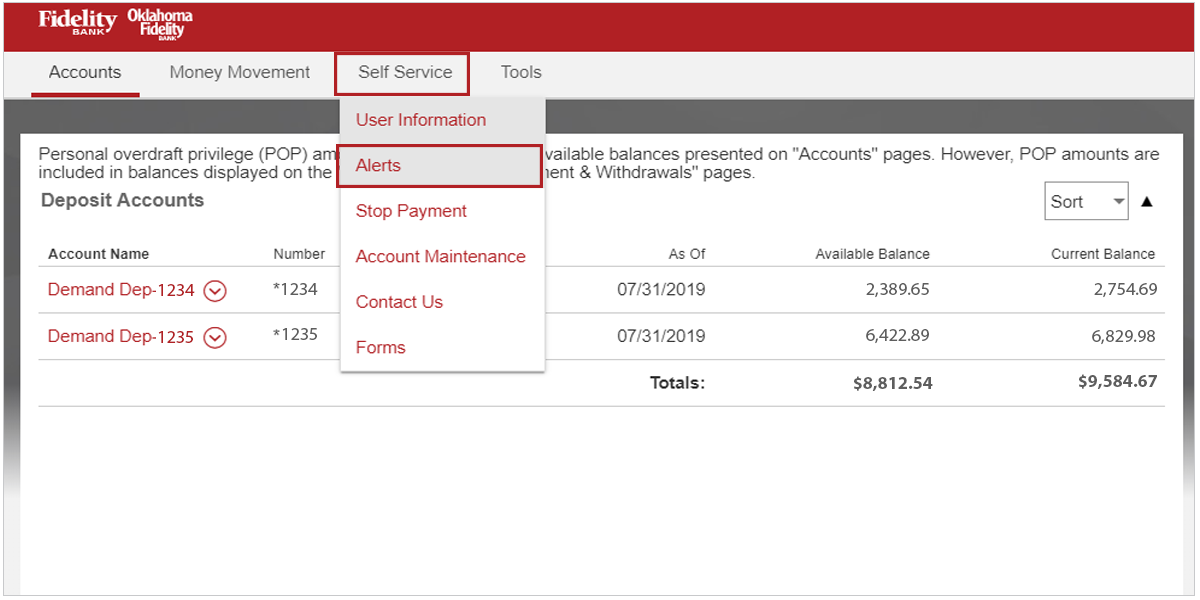 From here, you can set up the eAlerts you want to receive and determine how they will be sent.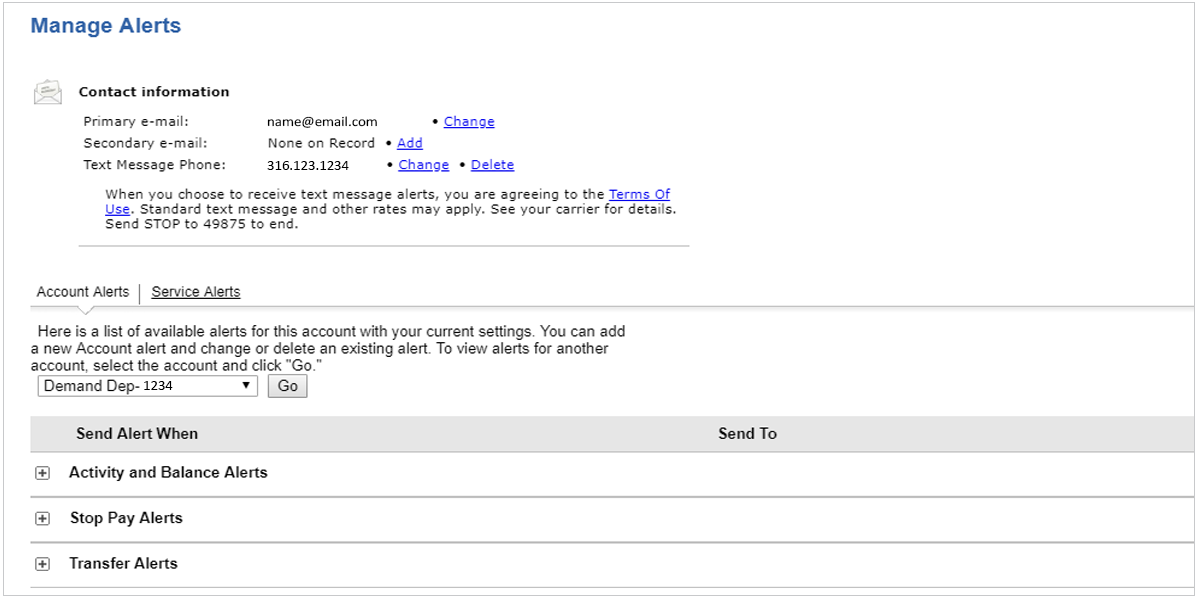 When setting up eAlerts within the Oklahoma Fidelity Bank mobile app, the alert will come through as a push notification enabled on your device.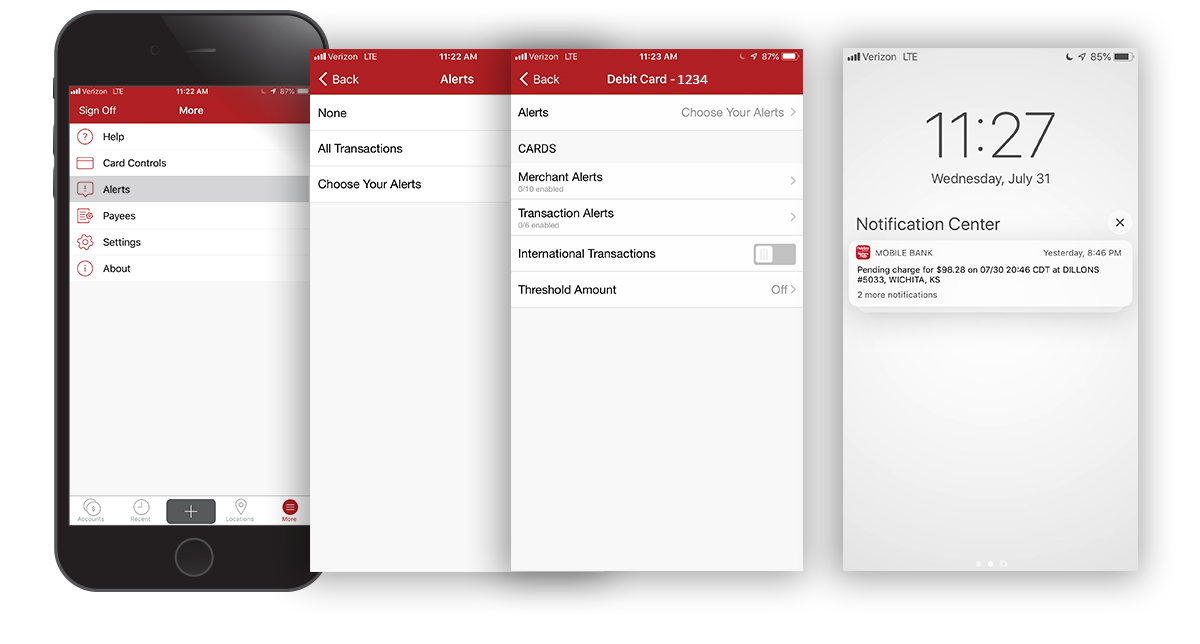 Without the mobile app, eAlerts notifications can be sent as a text or email.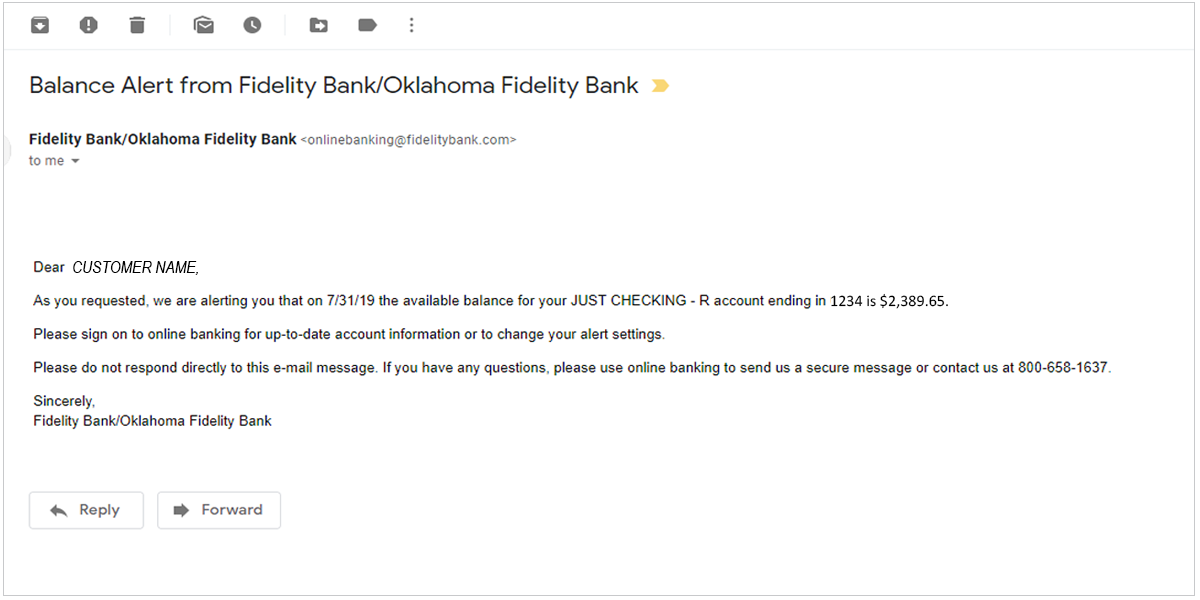 CAN I REACH CUSTOMER SERVICE BY REPLYING TO AN eALERT?
There is no customer service support through the eAlerts messages; however, you can still reach us through online banking by visiting the Contact Us page under the Self Service tab if you have any questions or concerns about an eAlert notice you receive.
WHY DID I RECEIVE TWO ALERTS CONCERNING THE SAME TRANSACTION?
It is common to receive two notifications for one purchase. This doesn't necessarily mean that you are being charged twice. The first notification is usually a pending transaction, while the second is the approved transaction. This happens occasionally at gas stations, hotels or other similar businesses.
WHY IS THE eALERT SOMETIMES A DIFFERENT AMOUNT THAN THE ACTUAL CHARGE?
Occasionally, there may be a discrepancy between the charge you see and the actual amount. This happens frequently at restaurants, where you leave a tip after being charged the initial amount.
WHAT DO I DO IF I HAVE AN INNACURATE CHARGE?
If you receive notice of a charge that appears to be inaccurate, immediately contact our customer care team at 1.800.757.0464 for assistance.
HOW DO I UNSUBSCRIBE FROM eALERTS?
If you wish to stop receiving eAlerts, log into online banking and deselect the alerts you want to discontinue in the Alerts tab under Self Service. You can unsubscribe at any time from all services by texting STOP to 49875. To get additional information about eAlerts service, you can text HELP to 49875.