Online Banking Secure Login FAQ
ONLINE BANKING SECURE LOGIN FAQ
3/5/2019
As a security measure, Oklahoma Fidelity Bank customers logging into Online Banking will occasionally encounter prompts that require additional steps to verify their identity before granting account access. This is a common practice to secure bank accounts and is commonly referred to as verification, authentication, out-of-band authentication, step-up security, multi-factor authentication, and two-factor authentication. Below, we've answered many common questions regarding this security procedure.
Why am I occasionally asked to verify my identity?
This is one of the many ways Oklahoma Fidelity Bank keeps your account(s) and personal financial information secure. Identity verification is a federally-mandated procedure for preventing fraud and other illegal financial activity.
Customers who are new to Oklahoma Fidelity Bank Online Banking may receive more frequent verification requests. All customers will receive verification prompts when attempting to log into your bank accounts from unrecognized devices, such as public computers and new personal devices.
Can I turn off this feature?
No. This security practice is an industry standard for safeguarding your account and cannot be turned off.
Will I have to authenticate my account every time I want to access my account?
No, though new Online Banking users may experience more frequent authentication procedures, such as one-time security codes and security questions. After a period of increased authentication steps, the security process will adjust to accommodate your unique behaviors.
How do I receive my security codes or questions?
Each time you receive an authentication prompt, you will be able to select your method of code delivery. The code can be delivered to your mobile phone via MMS text or as an automated call to your preferred phone number.
You will be given those options every time, ensuring that you can always select the option most convenient for you at that time.
What do I do once I've received the security code?
A prompt similar to the example below will appear on the Online Banking website where the code can be entered.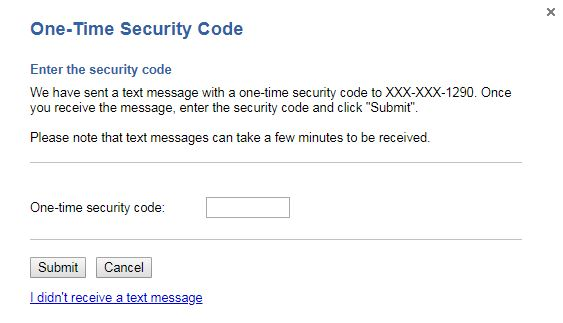 Once you have typed in the code, click "Submit."
If your code does not appear within 10 minutes via your chosen delivery method, select "I didn't receive a text message" to resend the code.
Have additional questions about our account verification procedures or need help accessing your account?
Call our retail banking customer care center for assistance.
1.800.757.0464
Monday - Friday, 7:30 A.M. - 8:00 P.M.
Saturday, 9:00 A.M. - 5:00 P.M.
We are committed to providing you with a safe and secure banking experience that safeguards your private financial information.