Take control of your debit card.
Card Controls is a convenient way to control the transactions that are processed on your debit card. Beyond the ability to instantly enable and disable your debit card, you can also customize the use of your card by types of transactions, categories of merchants, purchase amounts and geographic regions.
Access Card Controls through the "more" section of the most current version of our mobile banking app to do the following:
Enable and disable debit cards. If you disable a debit card because of suspected fraud or the card being lost, notify our customer care team at
1-800-966-2951 so that proper security procedures can be followed.
Set location-based card controls. For added security when traveling, you can temporarily set geographic regions where your debit card can be used and then disable the regions when you leave.
Establish transaction type controls. Limit how your debit card is used by excluding certain transactions like online (eCommerce), automatic payments and/or ATM transactions.
Determine merchant type controls. Limit what types of merchants can run your debit card. For example, you can prevent your card from being used at gas stations, department stores and/or restaurants.
Set threshold amount controls. Set a dollar amount limits for card transactions.
Configure push notifications. Customize Card Control alerts associated with transaction thresholds, merchant categories, transaction types and international purchases.
Accessing Card Controls
Card Controls are available for free to all debit card holders with mobile banking. Access these features in three easy steps:
Step one
Make sure you have the current version of the Oklahoma Fidelity Bank mobile app.
Step two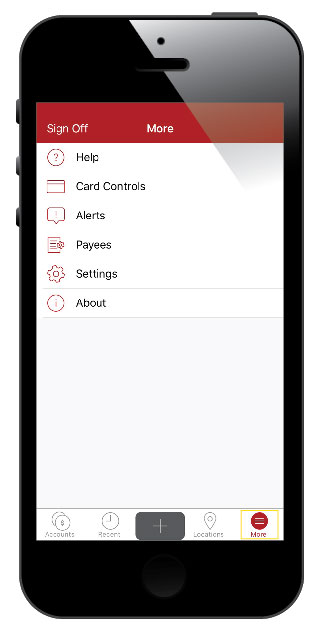 Within the mobile banking app, select Card Controls from "More" menu.
Step three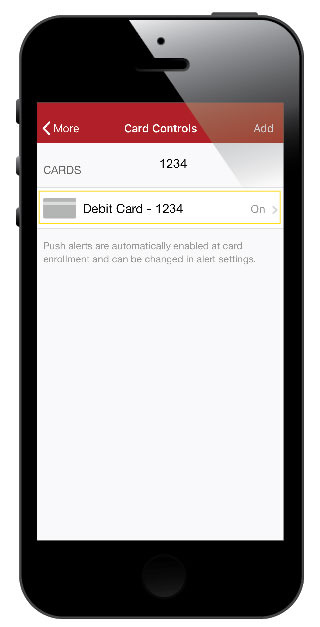 Select the debit card you wish to control and adjust the settings available in the preferences section.